T-Shuttle 1 Tea Harvester
Nerada Tea Plantation approached NQEA to design and develop the machine which became known as the T-Shuttle.  The parameters under which the new machine was to operate were extreme.  Due to the terrain and local environment, the new harvester was required to work on steep slopes and in extremely wet conditions.  All-wheel drive with full differential lock on all axles was a necessity.  This new machine completely answered the demands of the plantation.
In-Field Cane Transporter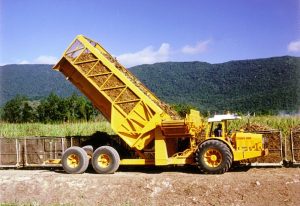 The in-field cane transporter known as Big Foot was developed and manufactured by NQEA.  Harvesters cut and load into the infield transporters which would tip the cane into portable bins at central locations on the farm.
Four-Wheel Cane Rail Wagon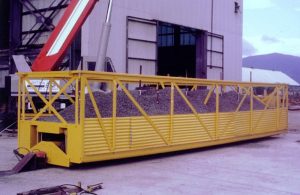 This wagon significantly increased the volume of cane carried per wheel by the development of the slung self-steering wheel assemblies which allowed for the wheel spacing to be double that of existing fixed axle wagons.  A feature was the introduction of the inherently weak torsion strength which ensured even force distribution to each wheel – not unlike the present day steerable scale board, which of course was not around when this wagon design was introduced.
Coffee Harvester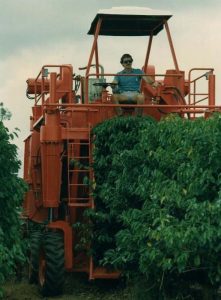 In 1983, NQEA designed and manufactured an all-terrain, self-levelling coffee harvester for Jaques Coffee Plantation, Mareeba.  The harvester revolutionised the way coffee was picked.  It is still operating today.